Pain Management By Fitterfly Physio Coaches Can Transform Your Life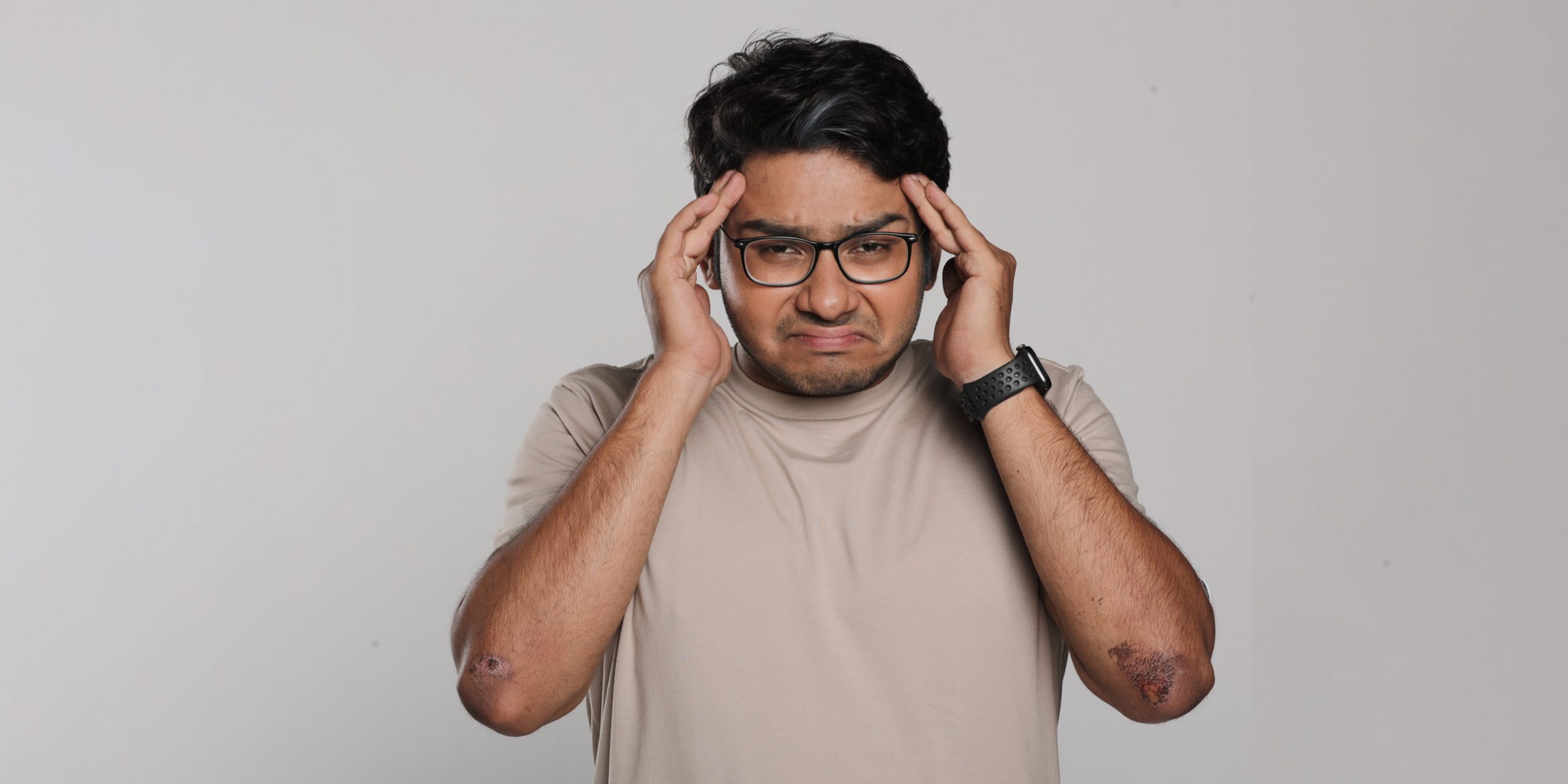 We all know how nagging pain can be such a  pain! Even the faintest of pains, can completely disrupt our quality of life.
Pain & Diabetes
Diabetes doesn't directly cause pain, but it increases the chances of developing arthritis (joint inflammation) and neuropathy (nerve damage), which can lead to pain. When diabetes damages small blood vessels and nerves, it can affect the blood or nerve supply to joints, causing discomfort. This condition, known as diabetic neuropathy, is quite common, with almost half of people with diabetes at risk – if their blood sugar levels aren't well-controlled.
Now, one of the most important pillars to help manage blood sugar levels and diabetes is exercising. Exercise helps reduce insulin resistance and optimise the glucose breakdown by muscles, thereby making it essential while managing Diabetes.
But, how can one exercise effectively when they are in pain?
The answer to that is you cannot! That's why that pain needs to be addressed first – to do any exercise. This is where the role of Physiotherapy comes in.
Physiotherapy is about addressing pain and movement restrictions that may result from that pain. In a typical clinical setup, physiotherapists mostly rely on electrotherapy to suppress the pain, enough to give the patient confidence to move the painful part and initiate exercises. This  strengthens the muscles and is beneficial for pain management in the long run.
Pain might stop you from exercising but it's only exercising that can rid you of pain. Sounds ironic?
A large body of research establishes that exercise is effective in managing pain. While it may seem counterintuitive to exercise and move a body part when it is hurting, the aim of physiotherapy is to remove the limitation in movement introduced by pain. Exercise is known to also alter pain perception through a mechanism known as exercise-induced hypoalgesia.
Thus, pain management is usually the first line of treatment that establishes the groundwork for the actual treatment –Exercise Therapy!
In simpler words, Physiotherapy led Pain management should be done first to enable a person to move into the next phase of exercising.
And this is exactly what our Physio Coaches at Fitterfly do.
Let's share 2 real stories of our members – how we managed their pain in the process of managing their Diabetes.
No more stress while managing diabetes
Don't struggle alone & get the expert care you deserve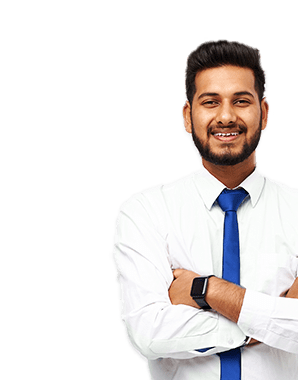 Case 1 : How Dr. AC, a dentist, got her life back when her 10 year long neck pain ended
A little into Dr. AC's pain-related history
Dr AC is a 43-year-old dentist who visited Fitterfly and joined our Diabetes Care program. During her initial round of conversation with us, she mentioned that she had been experiencing radiating neck pain to the left arm. The pain was so severe that she would be constantly irritated and often violent towards her son. When evaluated, she rated her pain to be 8 out of 10 on the Numerical Pain Rating Scale (NPRS). She also complained of restricted neck rotation towards the left side and a tingling sensation in her fingers. The worst part was that she had been living with this pain for 10 years!
What did Fitterfly Physio Coaches do?
At Fitterfly, we did a thorough examination and recommended the following for her pain:
Few effective exercises
Warm fomentation
Change of posture every 30 minus
During the one-week follow-up, we found that her pain had decreased to 0.5-1 out of 10.
This is what Dr. AC said
She later wrote us a feedback email which encompasses her experience beautifully. Have a read to hear it from the 'horse's mouth'.
"I am a working woman and a mother of a 7-year-old son. I have been having left shoulder pain for 10 years. This pain had become a part of life all these years. It was not just the pain, but I had become ill-tempered to bear it for all this while.
I met orthopaedics with the hope of some relief. I went through a series of scans & X-rays. The entire process was draining. When asked if I could exercise, I was informed exercise would only aggravate my pain.
I got a hope of light when I started my program at Fitterfly & met my Physio Coach. This is what she did (unlike my other physicians):
1) Diagnosed me on an online mode
2) Asked for no further tests
3) Made me do some movements & her conclusions were impressive.
I could not bend my head or turn. She explained to me how the shoulder pain has its source in my neck. I was suggested one exercise, and she patiently taught me until I picked it up well. Later, she followed up several times to check if I was doing well.
Result– I am much better today than in the last 10 years for the first time and able to do other exercises too"
Results achieved by Dr AC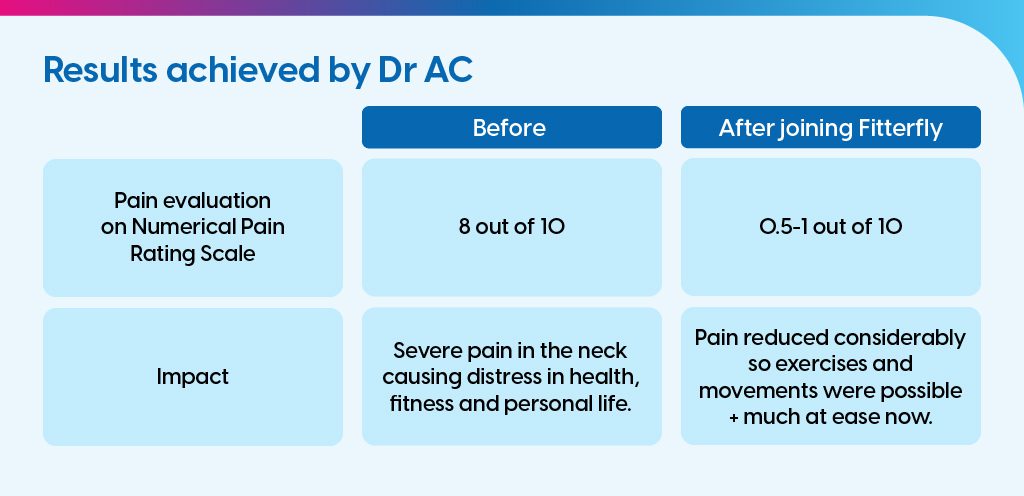 Let's talk about another member's journey on how now:
Case 2 : Mr KT, a retired scientist loved playing badminton, but a nagging lower back pain had stopped him. What did he do?
Flashback into Mr KT's pain
Mr KT, a 68-year-old retired ISRO scientist, had enrolled with us for managing Diabetes. During evaluations, we found he had been suffering from low back pain along with diabetes and hypertension. The pain had been present for 15 years, but he had only received a formal diagnosis of lumbar canal stenosis 1 year ago. Due to this, doing any exercise was difficult for him.
He was fond of playing badminton but was unable to do so because of his pain. Another aspect of his pain recognised while taking his medical history was that he had a 1-year-old granddaughter. He loved to go on walks while carrying her.
Fitterfly Physio Coaches intervention
Our physio coach advised him firstly to opt for a pram instead of carrying his granddaughter as that might be putting more stress on this back. Additionally, some specific exercises were advised to bring down the pain and strengthen his back muscles.
Outcome with the intervention
Given his age and the chronicity of the complaint, there were ups and downs in his recovery process. However, with 5 sessions spanning a month, Mr KT was able to bring the pain from 7/10 to 2/10 and also from constant to episodic. Not just this, but he became a regular exerciser and was able to improve his fitness levels as well.
Results achieved by Mr KT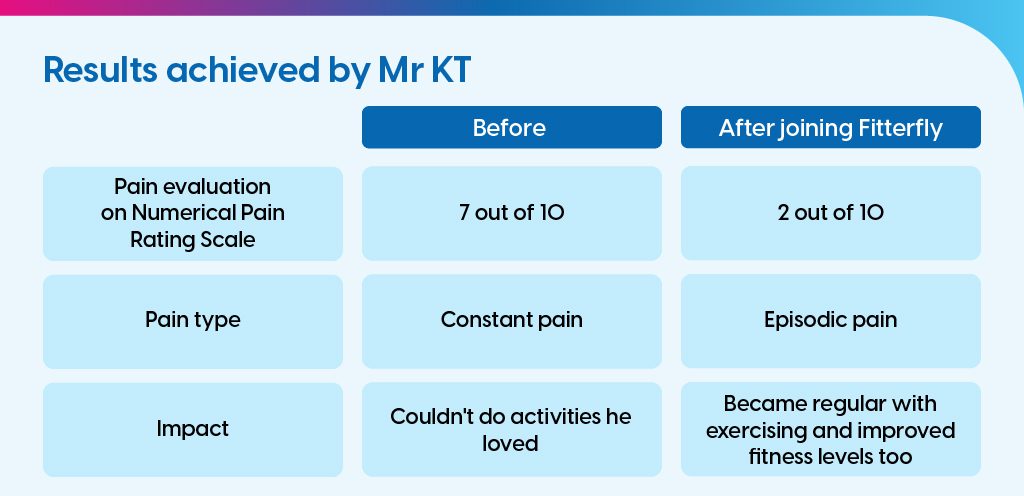 Fitterfly's approach on Pain Management
Our Mantra – Manage pain first, Exercise will follow
Physiotherapists at Fitterfly are constantly striving to help people with diabetes or weight issues to exercise in a scientifically-backed and customised manner. Our goal for our members is complete control on sugar level and exercise is instrumental in achieving that . But when a member is experiencing any physical pain, our priority changes to addressing that pain through Pain Management.
What methods do our Physio Coaches use?
There are several treatment approaches in the toolbox of our physiotherapists when it comes to managing pain. We may not be able to apply electrotherapy, but we are very well equipped with methods of assessing and treating pain in a virtual setup. We address our members' pain complaints in such a way that it leaves them totally satisfied and pin-free to a great extent.
You are in great hands, with Fitterfly Physio Coaches.
Pain may affect any age and anybody and can have any level of severity. The only thing that can help treat it is understanding its root cause. We are as eager to get rid of your pain as you are.
Fitterfly Physio Coaches are
Well-adept at evaluating all the possible causes of your pain.
They provide an all-rounded and holistic view of your pain and treat it from the root, along with effective diabetes management with other coaches.
Have demonstrated that mode of delivering care is no barrier to achieving pain relief
FitterTake
Exercise is important for all. And it's even more important for a person managing Diabetes because it's one of the key aspects that can help in controlling blood sugar fluctuations. It's also true that a person with diabetes can be more vulnerable to pain for multiple reasons like Diabetic Neuropathy which makes it even more difficult to do exercise. Hence, when pain is present, be it any part of the body, it's best to address it first and then move on to any form of exercise.
At Fitterfly, when you enroll with our Diabetes Care Program, our trained physiotherapists whom we call Physio Coaches are there to treat you. They are part of our 3 Coach Team consisting of a Nutrition Coach, Physio Coach and a Success Coach.
The advantage of such a set-up is that all the 3 coaches work together in their areas of speciality to address your pain. The result – not only does your Diabetes get managed efficiently but your pain is also resolved to a great extent.
If you are experiencing any sort of pain, look no further. Talk to one of our Program Advisors and see how we can help you.
- By Fitterfly Health-Team
No more stress while managing diabetes
Don't struggle alone & get the expert care you deserve