Published on:
Jan 25, 2023
960 Views
The Health Benefits of Climbing Stairs That You Need to Know About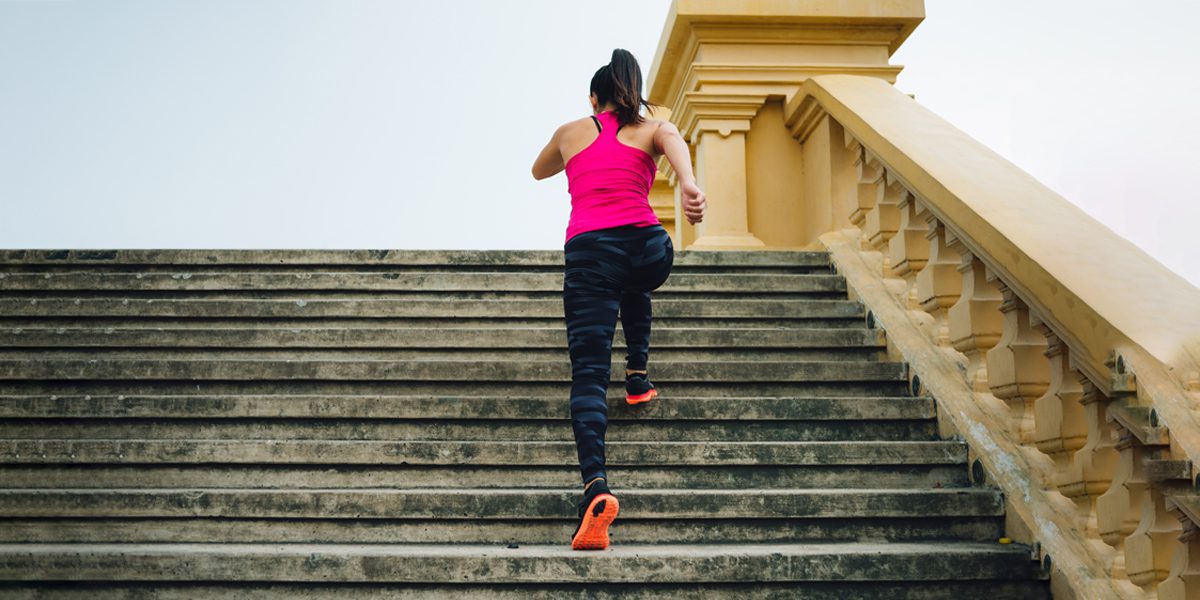 Are you someone who is not able to exercise due to a lack of time or equipment? Are you looking for ways to add more physical activity to your daily routine without having to spend extra time on it? Then we've got just the right exercise for you to try and all you need is stairs. Whether it is in your building or at your workplace climbing stairs can be a hassle-free activity to incorporate into your life. 
In this article we will look at the benefits of climbing stairs, what is the best way to start this activity, who is it for and who should refrain from it, and other lifestyle changes that you can add to your routine to become healthier. Read on to know more.
What are the benefits of climbing stairs?
Physical activity in general has great benefits for anyone and especially for people who are trying to manage a metabolic health condition such as prediabetes, type 2 diabetes, and stubborn weight. 
Benefits of Taking the Stairs:
Easy to do! This low-cost and no-equipment exercise can be done anytime and anywhere. 

Improves mental health – It helps produce "happy hormones" like endorphins, which are responsible for elating your mood and improving sleep quality. 

Burn more calories than walking or jogging – If you don't have a great spot for walking around your office or home or if jogging is a high-impact activity for you, stair climbing can be the best option for you. 

Boosts your overall health – Like all cardiovascular exercises with resistance, this activity helps you lose weight which can improve your blood sugar and blood pressure levels. Along with reducing your risk of heart disease and osteoporosis. 

Improves joint health – Ageing and metabolic health conditions can affect your joint health this kind of movement improves your joint health and helps your build muscle mass.  

Helps improve your heart health – helps in increasing HDL "good cholesterol" in your blood and improves blood circulation. 

Helps build endurance – It improves your gait, balance, and endurance. 

Can be done by anyone – No specific training is required. 
Please note People with injury, back, and lower body pain, vertigo, and those with recent surgeries should avoid doing this activity unless they have been advised by their doctor or your health management team. 
Is climbing stairs good exercise?
Yes. climbing stairs is a great form of exercise. However, like any exercise, it is important to assess your physical fitness levels before embarking on any new exercise regime. When you enroll in the Fitterfly Diabetes and Weightloss program we conduct an in-depth physical assessment that takes into account different parameters such as upper and lower body strength, cardiovascular health, flexibility, and core strength before prescribing any exercises. To know more about the program you can contact us here. 
Here are some of the benefits of taking the stairs every day:
You get your daily recommended exercise, even when you are busy.

You develop muscle as well as core strength.

It increases your stamina.

It boosts your blood circulation.
How many stairs should I climb for a good workout?
If you are planning to take the stairs to get the overall health benefits of climbing stairs, you can start very slow, even by climbing just one floor of stairs in case you are absolutely not used to taking the stairs at all.
Climbing at least 10 to 12 steps a day is also a good start to your alternative exercise routine, in this case it is climbing stairs.

Gradually, as you build your stamina and improve your strength and muscles, you can climb at least 2 to 3 floors by stairs, and increase it further as you feel more and more comfortable.
Can climbing stairs reduce belly fat?
No. No exercise helps with spot reduction. Overall weight loss will help with fat reduction all over your body including your belly. 
Is climbing stairs better than walking?
Here are the ways climbing stairs can be more effective than walking. 
More convenient to do than walking- for walking you need to go outdoors/gym for the treadmill, all you need is a good pair of shoes and stairs which you can find in your building, streets, and office premises. So ditch the elevators and take the stairs! 

Greater calorie burn – you need to work in a vertical motion need to resist gravity, balance, and stabilize yourself, all this requires more work, hence more calories burnt! 

Lesser time to produce the same aerobic benefits. 

Larger muscle groups are activated – it is like a full body workout which includes the upper, and lower body along with the core. It's considered a high-intensity workout since it needs speed and practice. 

Climbing up the stairs increases heart rate and climbing down the stairs helps you recover- interval training while also helping you build endurance. 

You don't have to worry about the weather outside, so even in winter or rainy season, you can achieve your fitness goals by climbing the stairs. 
No more postponing exercise plans.
We have a weight loss solution that is just right for you
How long do I need to do stair climbing each day?
To start with 20 – 30 minutes of stair climbing including a short warmup and cool down period to start off and then can progress to 35-40 minutes, eventually. 
Is it beneficial to climb stairs every day?
Absolutely!! With all the benefits stated above, one should incorporate stair climbing daily as a very effective workout. It is an excellent activity to begin your journey toward better health. 
While there are various benefits of climbing stairs every day, here are a few things you should keep in mind before undertaking this activity:
Make sure that you are climbing stairs that are well-ventilated, clean, and dry, with no water spillage. This will help to prevent any risk of slipping and falling.

Check that the individual stairs are not too high or too steep and that you do not have to bend your knees a lot while climbing the stairs. If the stairs are too high, then you might have to bend your knee at each step, which could lead to knee pain.

Wear comfortable footwear, that fits well, has a strong grip and that will give your feet good cushioning so that it does not make the sole of your feet hurt.

While climbing up the stairs, make sure that the entire foot is on the stair and that part of your foot is not sticking out. This will help to prevent any risk of a fall.

Maintain good posture, where you can keep your back straight and do not have to arch your shoulders or back. In case the stairs are too narrow or too low, it may not be the perfect staircase for you to climb, especially when you cannot maintain a good posture. 

When initially you start taking the stairs to get the benefits of climbing stairs, do so at a slow and steady pace and do not rush into it. Once you are more comfortable and have climbed stairs for a few days or weeks, you can then gradually increase the speed at which you climb up. 
In case you have any pain or discomfort in your knees or legs, speak to your doctor first and only then climb stairs, as otherwise it could aggravate the pain and discomfort and lead to other health issues. 
The more you start making it a routine to climb stairs, the more you can get the benefits of climbing stairs and encourage your family, friends, and colleagues to do the same as well. In case you feel too tired while climbing stairs, feel out of breath, dizzy or uncomfortable, sit down and rest for some time. 
Fittertake
Exercise is one of the most important aspects of diabetes management and it is also one which is most difficult to nail, due to all the misconceptions and misinformation out there.
Armed with a team of the industry's best experts Fitterly is here to help you make the right choices for your blood sugar levels.
Also, remember that managing diabetes extends beyond exercise into a consistent and committed effort for making lifestyle changes related to diet, stress management, and sleep management. If you or a loved one is struggling to manage diabetes. Reach out to our program advisors here.
- By Fitterfly Health-Team
No more postponing exercise plans.
We have a weight loss solution that is just right for you
Tags
---